Megan Hable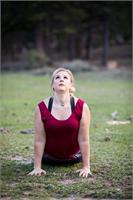 Megan hails from a small farming town in Wisconsin. She has always been active, from chores on her family farm, to sports in school and then running after college. She started doing distance races and has completed two marathons. During her training, she discovered yoga. She knew that it would help her with injury-prevention and help her move better. After about a year of a solid practice, Megan went to teacher training in Los Angeles. Megan became a certified yoga teacher in March 2013 and has trained in Hatha, Flow and Yin yoga styles and has been practicing yoga regularly since 2011. She has taught in Minneapolis, Seattle and St Louis prior to moving to Las Vegas. She still travels and teaches in other studios across the US but home is Las Vegas now.
Megan focuses on movement and strength to make the practice as accessible to all levels as possible. She truly believes any body can do yoga with an enthusiastic mindset. She also believes yoga can help with the emotional and metal stressors of modern life, from different breathing techniques to funny jokes, she doesn't take the practice too seriously.
Outside of yoga, she likes to hike, lift weights and read. She can't live without her fur baby, Peanut.
Megan Hable instructs the following:
Have you ever wondered how yoga might help you lift a box? Reach for something up on a tall shelf? Improve your balance? Or just move through your days with more ease and less aches and pains?

Join Megan for a two hour workshop that will explore functional yoga + movement; learn about real world biomechanics, how move your body more efficiently and effectively to gain strength and move with more ease and less discomfort in every day life.

Investment: $20