Taylor Berg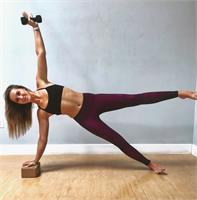 Taylor Berg instructs the following:
Looking to improve the booty? We have one for you now. It will help reshape your glutes and abs in this amazing 1 hour class. Be prepared to find a new edge as we focus on your powerhouse. This Format will include weights, bands, balls, and blocks; depending upon what the instructor will be doing that day.

Semi Heated means it will be around 93-95 degrees with 40% Humidity.

Bring a mat, towel, water, and a smile.