Lisa Virga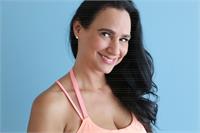 Lisa Virga was born and raised in Brooklyn, New York. She has always loved to work out and felt a desire to one day become an instructor. Her love for Hot Yoga, Pilates, and Fitness has finally allowed her to set her passion and practice into action. Lisa's journey with Yoga, Pilates, and Fitness has blessed her with a constant experience of transformation in mind, body, and spirit. Her practice has become her main focus in life which allows her to believe that all things are possible! Lisa earned her 200 Hour Yoga Teacher Training with RYS Vegas Hot University. Lisa earned her Pilates Mat I & II Certification with Dolly Kelepecz & D.K. Body Balancing Method.
~Do what you love and do it often.~
Lisa Virga instructs the following:
This therapeutically sequenced class is set to 100-105 degrees, and 40 percent humidity. Students will enjoy a smart way of practicing Yoga.

Benefits include: strength increase, toned muscles, general sense of well being (physical and psychological) improved flexibility, increased mental clarity, detoxification (through sweating) alleviating many ailments such as stress, muscular pain, arthritis, insomnia, with the potential for weight loss.

This class is encouraged for mixed level, and suited to any body type or practice level.

Bring your own mat or rent one in the studio! A small bottle of water is recommended.