Amber Fontaine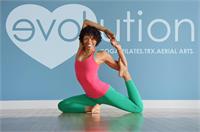 Yoga and Amber formally met about 8 years ago when doctors gave this then new mother a life altering possibility .... consider heart surgery or...? She chose to first try altering her own life style. A metamorphosis from which she has never looked back thus began. An athletic gym rat who thought a fitness goal couldn't be attained without lifting weights, hasn't lifted a weight outside of her own body since 2010.
Encouraged to share her joy she first became certified to teach in 2014. Her hunger only grew and she attained her 200hr SmartFlow certification at her much beloved Yoga Sanctuary in 2016. She considers herself the student that shall never graduate, as her education is a journey she knows will never end.
Amber is known for her grinning teaching style and contagious enthusiasm to 'play on the mat'. Thus encouraging her 'fellow students' to believe as she does....'If as a community we stay dedicated to the practice of yoga, we will unwrap a new present housed in our bodies every time!' Being a life long lover of the written words power to inspire and music to cajole, these are pieces of her creative and powerful sequencing design. Every student, the newest to the more seasoned revives from Savasana aglow with a revived sense of self and a happy heart.
Amber Fontaine instructs the following:
Vinyasa Yoga is a dynamic flowing yoga practice. Vinyasa literally translates to breath-sycronized movement and it is cardiovascular by nature. You will be guided to move and flow, connecting the postures together with the breath (inhale and exhale) to create a dance-like sequence or as some have called it, a "Moving Meditation".

Temperature: 80 degrees

Recommended: yoga mat, yoga towel, and water