Mara Austria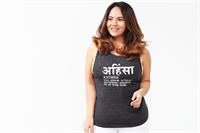 Mara moved to Las Vegas from the Philippines in 2006. She performed as a singer in a band for years, travelling around Las Vegas and California. Needing a lifestyle change from weighing more than 300 lbs at her biggest, she eventually found Yoga. She started practicing the Ashtanga Method in 2011.
Influenced by her trainings at YogaWorks, her approach to the practice evolved over the years, where she incorporates the principles of Iyengar in Ashtanga and both methods in Vinyasa Flow. She believes that combining these strong schools of Yoga has both healing and strength building properties that makes Ashtanga more accessible to all levels of Yoga Practitioners. Besides teaching an alignment based Vinyasa Flow class, she also teaches Power Restorative and Yin Flow.
Mara completed her 500 RYT certification at YogaWorks after completing her 200 RYT certification in All About Yoga, in Las Vegas, NV. In November 2015, Mara also completed her BeHold Barre Teacher Training Certification through Christine Orient.
Mara Austria instructs the following:
Take a different perspective in your Yoga practice by changing the relationship of your body towards the floor. Pamana, means a gift to receive, is an innovative way to practice active postures in a dynamic restorative perspective, engaging subtle muscles and finding relaxation at the same time. Room is non-heated. Props will be used and Pamana adjustments will be done in class.




Taught by Kari Whiteaker, who is an Cert. Yin Yoga Instructor, Usui Reiki Master, Intuitive Empath, Chakra Energy Specialist, Meditation Specialist, and Sound Healer.

In this Yin Yoga class, the approach is with a mental focus and is much deeper than Yang like practices. Often called "The Yin Within", Yin Yoga removes the blockages deep in our connective tissues, allowing the Chi and Prana to flow unhindered. To get the energy moving in Yin Yoga, we can use various techniques and postures. By remaining in the postures longer, we allow ourselves to breathe into each pose while the body relaxes deeper into stillness obtaining full surrender. We will also focus on being in the present moment and releasing the mind from everyday chatter and over thinking, creating space to just be who you truly are.