Melissa Plakio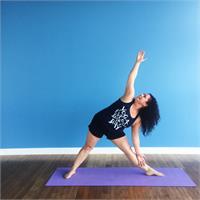 Bio:
Melissa started her yoga career in 2000 when she began training to become a Massage Therapist. She started with Kundalini yoga and Tai Chi. Over the next 7 years she dabbled in and out of yoga classes while pursuing her career in bodywork. In 2007, while living in Monterey, CA, she began regularly attending Bikram Yoga classes and pursing advanced Tai Chi. This is where Melissa realized attending 3-5 yoga classes a week was saving her body from the years of performing massage. In 2011 she moved back to Las Vegas, still pursing her Bikram classes and training for full and half marathons, she became a Lead Massage Trainer at a resort spa. In 2013 she became a member of a local studio and began taking and experiencing several different types of yoga. This is where her love for yoga and the benefits she experienced from her practice drew her into ZFlow Power Yoga Teacher Training. In 2014 Melissa completed the RYS 200 hour ZFlow Power Yoga Teacher Training. In 2015 Melissa also completed her Hands OnAssist Program, Yogalates Training, and became a Certified SUP Yoga Instructor. Melissa's passion will continue to drive her education in many different types of yoga while still giving back to the community.
Melissa Plakio instructs the following:
This therapeutically sequenced class is set to 100-105 degrees, and 40 percent humidity. Students will enjoy a smart way of practicing Yoga.

Benefits include: strength increase, toned muscles, general sense of well being (physical and psychological) improved flexibility, increased mental clarity, detoxification (through sweating) alleviating many ailments such as stress, muscular pain, arthritis, insomnia, with the potential for weight loss.

This class is encouraged for mixed level, and suited to any body type or practice level.

Bring your own mat or rent one in the studio! A small bottle of water is recommended.